Welcome to SomaPatterns, Two Sewing Pattern Lines
Zero-Waste Pattern and Vintage "O-Retro Patterns"


---

Available now as paper pattern




---

Scarf blouse October 1954

Fairly fitted blouse with a drape neckline ending by a scarf at center front. The sleeve are combined with the front and back pieces. They are 3/4 length and on the bias. The blouse is fitted with tucks in the front and back. The "October 1954 Blouse" pattern includes instructions for fitting and adjustment of the pattern.


Patron de blouse Octobre 1954

Blouse à encolure drapée qui se noue négligemment et dont les manches trois-quarts sont kimono. Cette blouse est sombre mais suffisamment habillée pour vous accompagner au travail comme dans vos soirée.
La blouse est cintrée à l'avant et à l'arrière par des pinces.
Le patron et les instructions de construction sont inclus. Des ajustements peuvent être effectuées aux lignes précisées.


This pattern can be cut as a Dress or a Tunic.

Wide box pleats, sewn at strategic places, give a shape to the garment.

The nice large shawl collar is the prolongation of the dress flip over. So the "wrong" side of the fabric will show.

Off shoulder armhole form a small cap sleeve.

The Dorianne Dress/Tunic pattern is made in 5 sizes from XS to XL.

For more detail click on "zero-waste pattern", and dress, on click on the picture.

More photos of the Dorianne Dress made in 4 ply ivory silk, and tunic in sueded silk charmeuse on

Gallery

---

Ce patron a deux longueur et peut être couper pour une robe ou a la hauteur d'une tunique.
Les grands plis creux sont cousus a des endroits stratégiques pour assurer l'ajustement de la robe.
Le col est le prolongement de la robe, retombant sur le devant comme un châle. L'envers du tissu est donc visible.
Les épaules tombantes forment une mini manche.
Le patrons est en 5 tailles de XS a XL. Pour de plus ample details click sur la photo, ou sur "zero-waste" et dur dress.
Toutes les photos des patrons finis sur la page Gallery. Robe réalisée en soie faille et la tunique en soie brossée charmeuse.
---
SomaPatterns, Zero Waste Line of sewing patterns.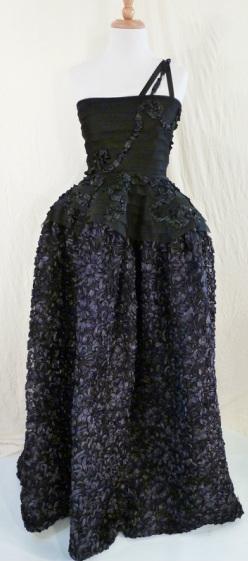 SomaPatterns is a new line of sewing patterns, design with no-waste in mind and with a fun and chic look.
There are no left-overs. No scrap of garbage is left behind. Everything is used for the garment. Zero-waste pattern design is at its best in creating interesting details.
SomaPatterns are easy to sew, but it is not your regular sewing pattern. Everything fits in one big square or rectangle of fabric. The assembly may resemble more of a puzzle than a classic sewing pattern and the instructions work you through the construction process.
Based in the heart of the Soma district in San Francisco, Sylvie Privat designs wearable patterns with a fun and modern and chic flare.
Les Patrons peuvent aussi être envoyer en
Français
The patterns are now available
here
and in several websites,
Etsy
,
Craftsy
in download format as well as in paper format.
Sylvie has been also a member of the
Association of Sewing and Design Professional
(ASDP), since 2003.
In 2011 Sylvie won the "Best Engineering" category of the No-Waste Designs challenge organized by Threads Magazine for ASDP members.
Full page view on Threads May 2012 number 160, page 43
This black gown is the winning No-Waste Design.
.
---
Why zero-waste Fashion?
One of the main issues with sustainable fashion is the problem with waste. Waste occurs in all stages of fabric and apparel manufacturing but waste fabric from cutting and sewing as well as discarding of entire garments, both new and used, produces a particular problem as it finds its way into our landfil.

When a pattern is cut out, the leftover scraps are usually considered useless because they're too small to sew into anything else, and an average of 5 to15% of the fabric is discarded
. (
Sandy Ericson article on Threads
magazine and at the
Center For Pattern Design
)
We can now create envirement friendly patterns, no scraps or left over goes to landfill after cutting and sewing.
To learn more....